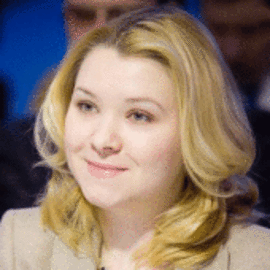 Ekaterina Loshkareva
Agency of Strategic Initiatives for promotion new projects
Head of implementation and monitoring department of the NSCC
Education
From 2003 to 2004 – Togliatti State University, Technological Department. Qualification: arc welder of 2nd grade.
From 2004 to 2007 – Non-state Educational Institution of Higher Professional Education "Togliatti Management Academy". The training program was mastered in an accelerated manner. Specialty: Corporate Management.
Professional background
Within the scope of her current activities in the Agency of Strategic Initiatives is in charge of the Young Professionals area matters related to staffing the branches of industry, including the system project of dual education that is being carried out in 10 pilot Regions(Kaluga Region, Ulianovsk Region, Perm Territory, Krasnoyarsk Territory, Yaroslavl Region, Sverdlovsk Region, Republic of Tatarstan, Volgograd Region, Moscow Region, Nizhniy Novgorod Region), as well as the World Skills Russia project, in particular the national championship of cross-industry blue-collar occupations in the high-technology branches of industry according to World Skills methodology. Program Director of Boiling Point (the agency's educational-communicatory site).
Director of the Centre of Managerial Staff Training Programs at the Institute of Organizational Development and Strategic Initiatives at the Russian Academy of National Economy and Civil Service under the President of the Russian Federation.
Main projects:
Development and implementation of the program Management of Innovative Projects Cooperation. This is the first project-oriented program of technological cooperation with the participation of 20 enterprises of the aviation, instrument-making, and radioelectronic industries.
Development and implementation of the projects of workforce capacity development of the enterprises engaged in innovative projects in various branches of the industry.
Development of the concept of staffing Russia's motorcar industry strategy for the period up to 2020, including the creation of the industry's professional qualification structure and professional standards (together with Research University Higher School of Economics by order of "AvtoVAZ", Kamaz, OOO "Volkswagengruprus", Sollers, GAZ Group, and the Ministry of Industry and Trade of Russia).
Moderator of the integrated programs of Moscow School of Management Skolkovo, including the following programs:
Stimulating the Demand for Nanotechnology Products;
Formation of the Innovative Development Program for State Corporations;
Arctic Vector: Development Strategy of Northern (Arctic) Federal University;
Management of Technological Innovations.