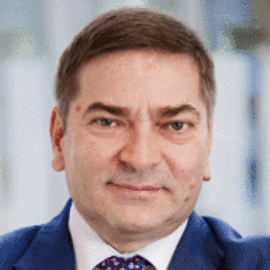 Aleksandr Idrisov
"Strategy Partners Group"
Managing Partner
Education
1984 – Pavlodar Industrial Institute, engineer (specialization – machine building).
1988 – Bauman Moscow State Technical University, postgraduate studies.
1993, 1994, 1995, 2000 – German Management School, refresher training.
2010 – Harvard Business School, refresher training.
Professional background
Member, Interdepartmental Commission for Technological Development at the Council for Economy Modernization and Innovative Development under the President of the Russian Federation.
Member, Public Council under the Federal Agency for State Property Management.
Member, Expert Council at the "Open Government".
Member, Public Council at the Military and Industrial Commission under the Government of the Russian Federation.
Member, group of experts representing Russia in the Global Federation of Competitiveness Councils (GFCC).
Member, General Board of the public organization "Delovaya Rossiya" (Business Russia).
Member, Public Council under the Ministry of Regional Development of the Russian Federation.
1998 to 2002 – First President, Guild of Investment and Financial Analysts of Russia; representative of Russia in the European Federation of Financial Analysts Societies (EFFAS) and Certified International Investment Analyst (CIIA).
1989 to 1993 – General Director, Innovation Centre under the Academy of Sciences of the USSR.
Author of the first Russian software product Project Expert in the field of business planning and corporate finance that is widely represented in the international market. Author of the monograph Strategic Planning and multiple publications in the leading business editions, such as Vedomosti, Expert, Upravlenie kompaniey (Company Management), Rynok tsennykh bumag (Securities Market), Ekonomika i zhizn (Economy and Life), etc.
Over 200 advisory projects were implemented under the leadership of Alexander Idrisov, including the elaboration of development strategies for leading Russian and international corporations, among which is State Corporation "Rostekhnologii" (Russian Technologies) (aviation industry development strategy up to 2025, etc.); the RF space industry development strategy concept; regions' and countries' strategies development, including the Republic of Kazakhstan development strategy, Tomsk Region development strategy, etc. In late 2010 Alexander represented Russia in the process of its joining the Global Federation of Competitiveness Councils and also participated in the preparation of a report for Dmitriy Medvedev, President of the RF within the "Open Government" project.
At present a number of publicly significant projects is being carried out with the direct participation of Alexander Idrisov, e.g. the regular rating of small and medium-sized enterprises "Barometer Opory" (Barometer of Support) and annual report on Russia competitiveness in partnership with WEF and Sberbank of the RF.